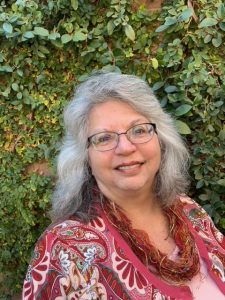 Prof. Kelly Tzoumis earned her BS in Distributed Studies of Chemistry, Microbiology, and Zoology from Iowa State University in 1985. She completed her MPA from Iowa State University with an emphasis in Environmental Policy and Regulation in 1987. In 1992, she finished her PhD from Texas A&M University in Political Science/Public Administration. She was a Congressional Fellow for the US Department of Energy to former Senator Paul Simon, where she worked on environmental and science policy on Capitol Hill. Professor Tzoumis was a Fulbright Distinguished Chair Scholar recipient in Environmental Studies (2003). Currently, she is working with 8 countries located across 4 continents in providing global environmental learning experiences in her courses.  She has been awarded three teaching innovations and design awards for her online courses and teacher and advisor of the year awards. Her courses have included virtual reality (3d/360) experiences, game simulations, production of case studies, and employ the use of a mixture of multimedia to reach all learners such as green screens, live streaming of interviews with experts, and meetings with students in small groups to engage globally. She also employs universal design and accessibility in her courses.
Before entering academe, she worked in the US Department of Energy's Idaho National Laboratory, and Argonne National Laboratory. She also worked in the Department of Energy headquarters in Washington, DC. Her work focused on the remediation and cleanup of the legacy of the nuclear weapons and other toxic chemicals. She was a Superfund program manager, and external liaison for the US Department of Energy.
She has also published numerous articles, and many conference papers. She enjoys publishing with students and her colleagues.  Her most recent book is titled, Toxic Chemicals in America: Controversies in Human and Environmental Health, was published in January 2021. This book is serving as an expert 2-volume edited set that integrates public policy with environmental and public health.
She has been a peer reviewer for nine different presses.  She has taught students in Yellowstone and Teton National Parks, as well as on research vessels on the Great Lakes.
Her most recent service work focusses on learners, staff and faculty with disabilities.  She is currently preparing to speak at the International Virtual Exchange Conference late this month on the use of virtual exchange in teaching, and has recently presented to the Association of American Colleges and Universities her work on global learning with her partners from the Navajo Nation, France, and Greece.