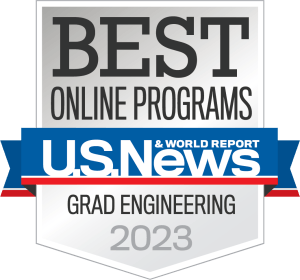 Program Rankings
Ranked #9 for Best Online Graduate Programs Overall by U.S. News & World Report
We're proud to offer top engineering degrees for several of our programs. 
Civil Engineering ranked #6 for Civil Engineering Programs by U.S. News & World Report
Electrical and Computer Engineering ranked #4 for Online Master's in Electrical Engineering by U.S. News & World Report
Engineering Management ranked #2 for Engineering Management by U.S. News & World Report
Computer Science, Cybersecurity, and Information Systems Engineering ranked #2 for Information Technology by U.S. News & World Report
Mechanical Engineering ranked #6 for Mechanical Engineering by U.S. News & World Report
Systems Engineering ranked #4 for Industrial/Systems Engineering by U.S. News & World Report
Whiting School of Engineering School Rankings
The collective expertise and dedication of our faculty have made the Engineering for Professionals programs of the Whiting School of Engineering a top-ranked school for students pursuing continued education in engineering.
Ranked #17 for Best Physics Schools by U.S. News & World Report
Ranked #17 for Best Engineering School by U.S. News & World Report
Ranked #25 for Best Computer Science Schools U.S. News & World Report
Ranking Determinations
Ranking organizations determine school and program rank by looking at five major categories: student engagement, faculty credentials and training, student services and technology, peer reputation, and admissions selectivity.
When weighing engineering programs, U.S. News & World Reports ranks individual programs in the following categories: 

Aerospace / Aeronautical / Astronautical Engineering

Biological / Agricultural Engineering

Biomedical Engineering / Bioengineering

Chemical Engineering

Civil Engineering

Computer Engineering

Electrical / Electronic / Communications Engineering

Environmental / Environmental Health Engineering

Industrial / Manufacturing / Systems Engineering

Materials Engineering

Mechanical Engineering

Nuclear Engineering

Petroleum Engineering
College rankings help prospective students determine which schools offer the best education, experience, support, and assistance to help them narrow their search for the best school for them. Finding a top engineering master's degree takes more than looking at a list. Look into the schools' courses, faculty, advisors, and available program features to find the one that best suits your goals, learning style, situation, and expectations.
Graduate courses are $5,872 per course. Depending on which program you choose (Master's or a certificate program) you will take anywhere between four and 10 courses throughout your education. Many of our students are able to get tuition assistance through the support of their employer. You can learn more about tuition and fees here.
Apply any time, no GRE required, and earn a master's in engineering after just 10 courses or an engineering certificate in as few as 4. Applications are accepted on a rolling basis.