Distinguished Speaker Series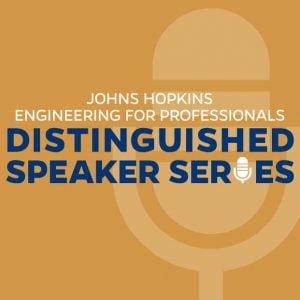 Engineering for Professionals (EP) presents a limited webinar series spotlighting our faculty. Learn about the ways engineering affects the modern world and how our faculty are staying at the forefront of engineering advancement.
Highlights from Principles of Air Quality Management
Susan Wierman
Feb. 2022
This lecture highlights aspects of the air quality management cycle, which rests on a legal, economic, and scientific foundation. Progress has been great, but important challenges remain. Environmental engineering requires multidisciplinary collaboration. You'll do a better job if you understand the principles of air quality management.
Academic Webinars
Offered at least twice a year, our academic webinars provide useful information for graduate engineering students in the areas of writing, communication, and presentation development. These webinars are taught by experts from the Whiting School of Engineering.
Recently held writing workshop webinars include:
Join the EP Student Community on Microsoft Teams
For help setting up Microsoft Teams, visit our Quick Start Guide.