Distinguished Speaker Series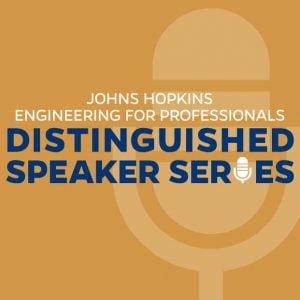 Engineering for Professionals (EP) presents a limited webinar series spotlighting our faculty. Learn about the ways engineering affects the modern world and how our faculty are staying at the forefront of engineering advancement.
Why Every Engineering Should Learn Patent Law
Lawrence Husick
April 2023


Engineering is applied science and technology directed at solving problems. The field of patent law is dedicated to documenting and protecting novel solutions in order to encourage the development of new ideas. Engineers should thus both understand how patent law works and realize that patent documents serve as a vast information resource. Some engineers may wish to pursue a career as a patent agent or attorney which can be a lucrative and rewarding path.

The Science, Ethics, and Geopolitics of Artificial Intelligence
Monica Lopez Gonzalez
April 2023
Artificial intelligence (AI) and machine learning (ML) have emerged as increasingly significant areas of inquiry and debate in science, technology, and society. From social media, wearable tech, and fintech, to autonomous weapon systems, law enforcement, and medical diagnosis, AI and ML are being integrated within many services and products across a range of industries. At the same time, like other powerful tech (e.g. CRISPR, nuclear power), AI poses a variety of ethical and political questions about how it can and should be designed, developed, deployed, and monitored. Covering AI's siloed past to its global present, this talk will highlight the human-centered approach needed to ensure humanity's viable future.

The Science of Sleep, Learning, and Memory: "Hacking Your Sleep"—Learn Better and Remember Longer
William Coon
April 2023
Sleep is critical for learning and memory. While we sleep, our brains are hard at work consolidating new learning into long-term memory, integrating it with prior experience, and scanning for new insights. Why work hard burning the midnight oil when you can outsource learning to your sleeping brain? In this lecture, we will cover the science of sleep and learning, unlocking the ways we can optimize our studying to make maximal use of our sleep. Sleep smart! Learn better.
Highlights from Principles of Air Quality Management
Susan Wierman
Feb. 2023
This lecture highlights aspects of the air quality management cycle, which rests on a legal, economic, and scientific foundation. Progress has been great, but important challenges remain. Environmental engineering requires multidisciplinary collaboration. You'll do a better job if you understand the principles of air quality management.
Academic Webinars
Offered at least twice a year, our academic webinars provide useful information for graduate engineering students in the areas of writing, communication, and presentation development. These webinars are taught by experts from the Whiting School of Engineering.
Recently held writing workshop webinars include:
Join the EP Student Community on Microsoft Teams
For help setting up Microsoft Teams, visit our Quick Start Guide.