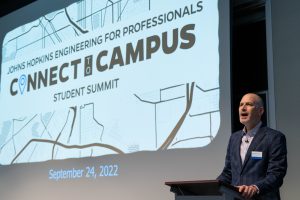 Johns Hopkins Engineering for Professionals program, like most online programs, connects with students in a variety of ways: Zoom, email, discussion boards, and more.
But as a leader in online graduate education for engineers, we also understand the importance of offering our students opportunities to engage with each other–and with us–in-person, so they feel a part of the Blue Jay family.
That's why we created and hosted Connect to Campus, our first-ever, in-person, student-focused event for our online students.
Connect to Campus was held Saturday, Sept. 24, 2022, on our Homewood campus in Baltimore, Maryland. The day-long event gave students the opportunity to network, socialize, learn, and have fun. Attendees met with their program chairs and other faculty, participated in industry-specific Tech Talks, talked with alumni, toured the campus, and enjoyed a Baltimore Orioles baseball game.
Participants said:
"Keep having these kinds of opportunities! I think it really solidified for me why I chose JHU (opportunity to come on campus and network, along with excellent education)."
 "This was better than I expected. I hope to be kept in the loop about other campus events; not just EP, ones which I hope there will be more of, but whole school events…"
 We look forward to hosting Connect to Campus each fall.