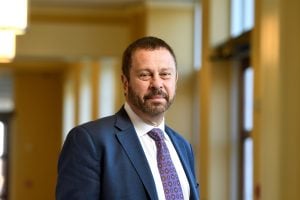 Ed Schlesinger, a steady and collaborative leader who has served as dean of Johns Hopkins University's Whiting School of Engineering since 2014, has been appointed to a third term as the school's Benjamin T. Rome dean, through June 30, 2028.
During his tenure, Schlesinger has cultivated partnerships between the Whiting School and other parts of the university, particularly the Applied Physics Laboratory. He has also launched centers and large-scale initiatives exploring critical areas of scholarly inquiry, including the Malone Center for Engineering in Healthcare, the Institute for Assured Autonomy, the Ralph S. O'Connor Sustainable Energy Institute, and a recently announced data science and translation institute, which will position the Whiting School and Johns Hopkins at the forefront of research and application in the rapidly emerging fields of artificial intelligence, machine learning, and data science.
"For nearly a decade under Ed's leadership, the Whiting School of Engineering has made tremendous progress in advancing institutional goals and elevating the school's impact both locally and around the globe," JHU President Ron Daniels and Interim Provost Stephen Gange wrote in a message to the Hopkins community today. "Ed's steadfast commitment to excellence and his ever-expanding vision for the Whiting School have been critical to driving its success year after year and are embodied in the school's bold strategic plan for the coming decade."
Under Schlesinger's leadership, and with the vital contributions of faculty, staff, and students, the Whiting School over the past decade has:
Doubled annual revenue, research funding, and its endowment
Expanded its faculty by approximately 50%, with significant future growth planned as part of the data science and translation institute
Launched

 

FastForward U

 

and new student makerspaces to support student innovators and entrepreneurs
Established a faculty senate to bolster faculty participation in shared governance
Launched the

 

Department of Environmental Health and Engineering

 

in partnership with the

 

Bloomberg School of Public Health
Started the

 

Materials Characterization and Processing Facility, a state-of-the-art space that serves as a hub for interdisciplinary research across the Hopkins community
Created a professional doctoral level degree program (D.Eng.) for working engineers
Expanded its K-12 outreach, including multiple partnerships with Baltimore City Public Schools
Additionally, Schlesinger has played a lead role in the university's efforts to reimagine the undergraduate experience and curriculum at Johns Hopkins, serving as the co-chair of the Second Commission on Undergraduate Education, or CUE2.
"Given the strong momentum at the Whiting School and exciting new opportunities that lie ahead, we are confident that Ed is the right person to continue to lead the school for years to come," Daniels and Gange wrote. "Please join us in thanking Ed for his service to the university and congratulating him on his reappointment."