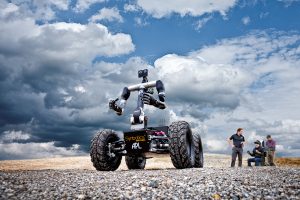 The new program's 10-course advanced curriculum focuses on the technologies needed to analyze, design, build, program, evaluate, and deploy robots and autonomous systems that can safely interact with humans and other robots.
Applications are open for the spring 2023 term, which begins Monday, Jan. 23, 2023.
"Johns Hopkins University has been educating working professionals for nearly 100 years, and we have been a leader in delivering online engineering graduate education for two decades," said Daniel Horn, associate dean, Johns Hopkins Engineering for Professionals. "We continue to design graduate programs that complement the emerging developments in technology and society to provide the workforce that companies and organizations need to be successful. The creation of this new master's in Robotics and Autonomous Systems exemplifies this long-standing commitment."
The robotics industry is expected to grow by 13.5% over the next five years, as robots and autonomous systems increasingly become an integral part of society. But the successful and safe use of robotic systems, including autonomous vehicles, depend on their interactions with a complex ecosystem of other intelligent systems, whose behaviors are often unpredictable. Preparing a workforce with the expertise and knowledge to help humans and robots safely and productively share spaces and environments is the goal of the new program.
"In creating this innovative new program, Johns Hopkins is leveraging its deep resources in engineering, medicine, and education to help cultivate a new generation of experts ready to ethically tackle the challenges presented by the use of robotics in sectors ranging from manufacturing and transportation to national security and more," said David Silberberg, principal professional staff member at Johns Hopkins Applied Physics Laboratory, research director of the Johns Hopkins Institute for Assured Autonomy and co-chair of the new program.
The robotics and autonomous systems master's program at Johns Hopkins Engineering offers a complex and innovative curriculum that addresses students' ability to design robots that safely interact with humans and other robots, can perceive and understand their environment, and execute multi-step tasks. Additionally, students will study how to design robotic and autonomous systems that operate over a continuum ranging from human remote control to full autonomy.
"Drawing from our successful full-time robotics master's program, we have incorporated research discoveries and translation findings into the curriculum to ensure students have an understanding of theory and application," said Louis Whitcomb, professor of mechanical engineering at Johns Hopkins Engineering and co-chair of the new program.
About Johns Hopkins Engineering for Professionals
Established with the expressed purpose to provide convenient, accessible graduate education for the technical workforce, Johns Hopkins Engineering for Professionals is a part-time, online graduate program offering master's degrees and certificates in over 20 disciplines. Instructors working at the top of their industries impart cutting-edge knowledge and real-world skills in collaborative, interactive learning environments. We serve nearly 5,000 students across the country, and offer a modern, relevant curriculum that prepares graduates to excel in their careers as scientists and engineers.
September 12, 2022
FOR IMMEDIATE RELEASE
JHU CONTACT: Lisa Ercolano
Cell: 443-845-3148/[email protected]