Timothy Galpin, assistant director for programs at the Johns Hopkins University Applied Physics Laboratory (APL), has been appointed chair of Engineering for Professionals' Engineering Management and Technical Management programs.
These programs equip students with the technical, managerial, and leadership skills they need to find innovative solutions to organizational challenges.
"I am honored to join such a talented group of leadership, faculty, and staff in the Engineering for Professionals program", said Galpin. "Students are accustomed to top-notch preparation for leadership roles in technical organizations, and I am committed to continuing that tradition of excellence as chair."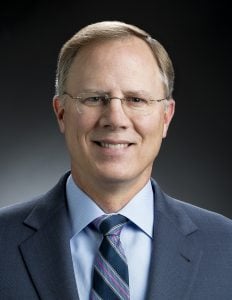 Galpin currently serves as APL's chief strategy officer, chief quality officer, and chairs the internal Investment Strategy team. He previously served as executive of the Infocentric Operations Business Area, where he focused on the dual missions of cyber and special operations. During his tenure, he developed and implemented business strategy, conducted integrated investment and resource planning, and executed programs across a range of research and development activities.
"We are excited to have Tim on board as the new chair for the engineering and technical management programs", said Dan Horn, associate dean for Engineering Professionals. "He's a well-respected professional in this area, and his expertise will complement the educational needs of our students and spur the program's continued growth."
Before joining APL in 2004, Galpin served as a career naval officer with service in four submarines and served in multiple joint and Navy staff positions in defense policy in Washington, D.C. In addition, he served as a member of the Council on Foreign Relations and on the Board of the United States Naval Institute.
Galpin earned a Bachelor of Science degree from the United States Naval Academy, a Master of Arts degree from Oxford University as a Rhodes Scholar, and a PhD in Public Policy from the University of Maryland Baltimore County. He holds certificates in management from the University of Virginia and in national security from the Harvard Kennedy School and MIT Seminar XXI.