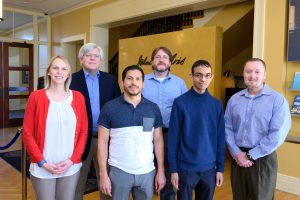 Like a traditional PhD, the DEng program is grounded in a candidate's advanced research under the close mentorship of a member of the Whiting School's engineering faculty.
But the similarities end there. While traditional PhD programs focus on theory and scholarship to prepare candidates for careers in academic or industrial research and leadership, the DEng program centers on engineering practice and application to prepare graduates for technical leadership roles in industry or the public sector. At its core, the DEng program allows the opportunity to select and dedicate their research to a project that directly applies to their current company or agency.
That means that students in the DEng program won't spend five or more years on a university campus conducting laboratory-based research—they will continue to work full-time while focusing on applying creative and innovative solutions to challenges that arise in their companies or agencies.
Unlike a traditional dissertation conducted in university laboratories, the DEng students' projects are very 'real world' in nature, said Edward Scheinerman, vice dean for graduate education at the Whiting School. This allows the students to have direct and immediate impact at their place of work.
Another notable difference between the traditional and the reimagined model is that instead of culminating in a dissertation—a fitting accomplishment in the world of academia—DEng students will present the fruits of their research in ways more appropriate for industry and the public sector, such as through the creation of prototypes, videos, simulations, patent applications, and more.
Though the bulk of the DEng candidates' work is done at their places of employment, they will come to campus twice a year for semi-annual conferences in January and June. They will meet with their advisers, take oral examinations, and participate in networking, professional development, and social events.
"This program will enable me to get the doctorate that I always wanted and planned for while still working full-time and raising my daughter."
Kara Shipley, an assistant program manager in the Johns Hopkins University Applied Physics Laboratory's Oceanic, Atmospheric and Remote Sensing Sciences Group, is part of the program's inaugural cohort.
"This program is a perfect fit for me," she said. "I earned my master's in mechanical engineering at Johns Hopkins part-time while I was working, but I didn't go on from there because doing a thesis while working full-time and balancing family responsibilities seemed too daunting. This program will enable me to get the doctorate that I always wanted and planned for while still working full-time and raising my daughter."
Prospective students can apply for admission in two cycles per year (starting their studies in either June or January).