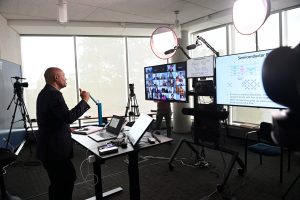 To enable successful remote teaching and learning during the COVID-19 pandemic, Johns Hopkins Engineering for Professionals (EP) program has created the Hopkins Live Studios on the Homewood Campus and the MP4 studios at the Johns Hopkins University Applied Physics Laboratory (APL).
At APL, the partnership rooms in the MP4 building have been converted into live studios. This process included removing all furniture and equipment from the VL rooms and completely redesigning those spaces, including adding state-of-the-art Zoom Rooms-based AV systems with integrated whiteboard cameras. The new MP4 state-of-the-art teaching studios, launched August 2020, aim to bring an "in-person" feeling to students taking remote live and online classes.
EP's Center for Digital and Media Initiatives experts collaborated with dozens of EP faculty over the past four years to arrive at this design. Leading up to the actual implementation, the team worked closely with Sri Sarma, associate professor in the Department of Biomedical Engineering and vice dean for graduate education at the Whiting School of Engineering, Ralph Etienne-Cummings, professor and chair of the Department of Electrical and Computer Engineering, and Natalia Trayanova, inaugural Murray B. Sachs Endowed Professor in the Department of Biomedical Engineering and a professor in the Department of Medicine, among others.
These new studios are significantly improving students' remote learning experiences, according to Nathan Graham, director of the Center for Digital and Media Initiatives and lead designer of the studios.
"Since we were taking a new approach to live course delivery at the Homewood campus, it made sense to upgrade the APL studios as well," Graham explained. "This allowed us to unify support and quality levels across all of our studios."
The MP4 and Hopkins Live Studios have the same design, enabling faculty who teach both on the Homewood campus and at APL to move comfortably between them. Beginning spring 2021, faculty will also be able to book the studios for remote conference engagements and scholarly presentations.
According to Graham, the studios were designed to allow faculty to teach while moving freely around the room, and provide them with multiple content sharing capabilities. Large displays mean that faculty can better see and hear their students, and the center display serves as an "off lens" teleprompter, allowing faculty members to maintain eye contact with their students.
The studios also offer several key enhancements that are improving students' remote-learning experience. Because the studios are Zoom Rooms-based, they allow students and faculty to come together via a familiar platform to learn, share, and communicate. Whether the faculty member is using an HD document camera, whiteboard camera, or interactive drawing tablet, students experience high- quality content delivered on professional equipment on a stable internet connection.
"Ultimately these studios are enhancing the online classroom experience for both faculty and students," said Graham. "My team and I are excited to provide such an innovative learning experience to the Engineering for Professionals community."