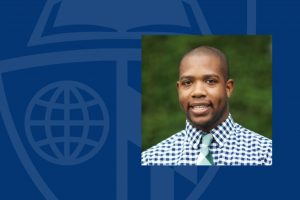 An analytics associate manager with Accenture Federal Services and father of four residing in Mt. Airy, Maryland, Benjamin Johnson lives a very busy life. So when he decided to pursue a master's degree in data science, he knew that an online and part-time master's program was the best way to accomplish his goal of advancing his skills and knowledge, while maintaining his responsibilities to his family and employer.
"I wanted to be able to go to school, but needed to be able to support my family financially, as my wife provides care and homeschooling of the children," said Johnson.
When a simple internet search turned up Johns Hopkins' Engineering for Professionals part-time and online programs, he felt that he had hit pay dirt.
"I saw that Johns Hopkins Engineering for Professionals was ranked among the best in the U.S.," said Johnson. "I wanted to get the most out of my graduate education by attending a prestigious program." So he applied, was accepted, and enrolled.
Since he began taking classes in spring 2019, he has found the program relevant and helpful.
"The material I've learned has already helped me tremendously in my career and has been immediately applicable to my current role. I have been able to use these concepts immediately at work, such as feature generation, Bayesian Statistical Inference, Null Models, Monte Carlo Simulations, and more," Johnson said. "These higher-level thinking courses are what makes an advanced degree in Data Science from Johns Hopkins University (JHU) so valuable. [They are] helping me to solidify concepts and apply them to new and diverse problems."
A disabled veteran, Johnson is also grateful that staff in JHU's Office of the Registrar helped connect him with the U.S. Department of Veterans Affairs' Yellow Ribbon program, which assists veterans in paying for tuition and expenses that the post-9/11 GI bill doesn't cover.
"My advice to anyone interested in pursuing an online and part-time degree at JHU EP is to be prepared to learn and be challenged," said Johnson. "This program offers a wealth of knowledge through faculty and fellow students and you must be prepared to put in the time, to gain the most from the program."