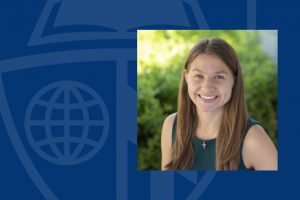 When she first enrolled in the Applied Biomedical Engineering (ABE) program at Engineering for Professionals, Emma MacIntyre wasn't sure she could balance the program's optional semester-long research project in addition to working full-time and earning a master's degree. Later, though, the medical device systems engineer at Insulet Corporation decided that the one or two semester-long research experience offered by the ABE program was the perfect opportunity to work on research projects relevant to her area of interest.
"The opportunity to tailor your graduate studies to your interests is invaluable," said MacIntyre. "I came into my master's with experience and interest in medical device human factors and was excited to take advantage of the opportunity to spend two semesters pursuing a research project in this field."
With prior experience in human factors (the science of applying information on physical and psychological characteristics to the design of devices and systems for human use), MacIntyre landed a research position with the Johns Hopkins Armstrong Institute for Health Care Human Factors under the direction of Ayse Gurses, director of that center and professor of anesthesiology and critical care medicine. MacIntyre's project, done in collaboration with the Centers for Disease Control and Prevention, aims to improve infection prevention and control in the healthcare environment through Project Firstline, the CDC's training collaborative for healthcare infection control. That experience has given MacIntyre the chance to work with qualitative research and analysis, as well as in applying other human factors engineering principles, such as heuristic analysis methodologies, which is an engineering method that finds usability issues in user interfaces.
As a result of this work, MacIntyre has been offered a contract position with the Armstrong Institute to continue her research and support publications related to the research group's work on Project Firstline when she graduates in spring 2023.
"I would highly recommend pursuing an independent study semester or two to enhance your master's experience and gain a greater depth of knowledge," said MacIntyre. "I am thankful for the Whiting School of Engineering's support in allowing me to grow as a professional engineer!"