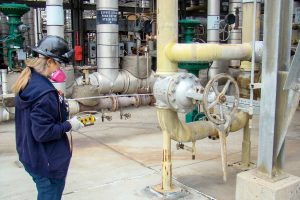 Occupational and Environmental Hygiene Master's Degree Program
*
The part-time/online program can be completed entirely online except for two hands-on courses that take place during the Summer Institute. The program can be completed in two-and-a-half to five years.
In addition to coursework, students will be required to perform an independent professional project that is typically conducted at their place of employment. This project will serve as the basis for both a culminating written essay and an oral presentation to program faculty and students. Some example essay titles are listed below.
Noise Assessment Within a Food Manufacturing Plant
Fugitive Combustible Dust Abatement in the Aerospace Industrial Manufacturing Sector
Evaluating Exposures at a New and Expanding Waste Sterilization and Recycling Facility
Effectiveness of Hearing Protection Device Fit Testing to Improve In-Ear Attenuation for Large Aircraft Test & Evaluation Workers
Measuring and Describing the Relationship between Respirable Mass, Airborne Mass, Bulk Powder Dispersibility and Dustiness for Nuclear Material Storage Container Evaluation
Modeling in Support of Industrial Hygiene Assessment: Aerospace Large Part Solvent Cleaning
Evaluation of Chemical Fume Hood Inspection Protocols for Chemical Hygiene Officers
Admission Criteria
Admission to the part-time degree program is limited to working professionals. Applicants for this program should have a strong background in sciences, including completion of at least one semester each of college-level biology, chemistry, physics, and calculus.
Admission is based on:
Academic record
References
A resume of professional experience
GRE score (The GRE is generally required of all applicants but may be waived on a case-by-case basis.)
Rolling Admission: Applications can be submitted throughout the academic year
Term 1 deadline: July 15 (Term 1 begins August 29)
Term 2 deadline: September 15 (Term 2 begins October 26)
Term 3 deadline: December 15 (Term 3 begins January 23)
Term 4 deadline: April 15 (Term 4 begins March 27)
Job Titles and Employers of Recent Grads
Team Lead Field Safety, Chevron, Los Angeles, CA
EHS Specialist, Boeing, Seattle, WA
Industrial Hygienist, Food and Drug Administration, Brooklyn, NY
EHS Specialist, Pfizer, Michigan
EHS Engineer, GKN Aerospace, San Diego, CA
Safety Officer, Department of National Defense, Alberta, Canada
Risk Assessor, EA Science and Technology, Sparks, MD
PhD student, Johns Hopkins School of Public Health, Baltimore, MD
Hands-on Coursework in Baltimore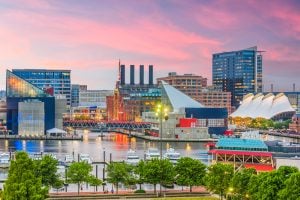 Students attend two separate hands-on courses on our East Baltimore campus during the Summer Institute session held in June. The courses are offered in alternating years and are two weeks in length.
Industrial Hygiene Laboratory—students will learn about methods for quantitative exposure assessment including pump calibration, passive and active sampling, gases and vapor, particulate matter, size-selective sampling; special methods for PM sampling (i.e. fibers, bioaerosols); and direct reading instruments.
Onsite Evaluation of Workplace and Occupational Health Programs—students will visit various industrial sites in the Baltimore region and evaluate the industrial environment including industrial processes, hazards, labor issues, and corporate structure in the context of worker health and safety. Examples of sites visited in previous offerings of the course: Harley Davidson, Domino Sugar, Nestle Ice Cream, McCormick Spice, Vulcan Mine, and the Baltimore Museum of Industry.
Typical First Year Schedule
| | |
| --- | --- |
| ACTIVITY | TIME PERIOD |
| Introduction to Online Learning—free, non-credit mini course | Complete prior to the start of the term in which the first online course is taken |
| Online Orientation Session | Mid- to Late August |
| Terms 1 and 2—online coursework | Late August–December |
| Winter Institute—virtual coursework (2-week session) | Early January |
| Terms 3 and 4—online coursework | Mid-January–Mid May |
| Summer Institute—On-campus coursework in East Baltimore (2-week sessions) | Early June |
Part-time students should expect to virtually attend one Winter Institute (Data Analysis Workshops) and two in-person Summer Institutes (laboratory and field trip courses) during their degree process.
Students should plan to meet with their advisers while on campus for Summer Institute sessions to discuss their Independent Professional Projects (IPPs). These projects should be employment-based. The student and advisor will work out an appropriate time frame for completion of project, submission of essay, and presentation of results.
Learn More About This Program
Offered through the #1-ranked Johns Hopkins Bloomberg School of Public Health, this environmental and ​​occupational health online degree can help you acquire the analytical and technical skills needed to solve pressing occupational health problems as a consultant or in the private or government sector.
Why Hopkins?
When ambition meets opportunity, anything is possible. Earn your degree on your terms at Johns Hopkins Engineering for Professionals.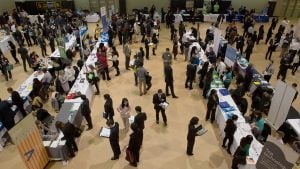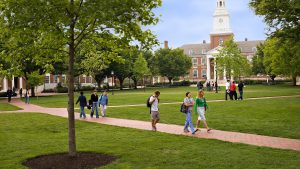 Occupational and Environmental Hygiene Program FAQs
Students in the MS OEH Program take occupational hygiene courses offered through the Bloomberg School of Public Health. Online courses are offered during Academic Terms 1–4 and on campus courses are offered during the 2-week Summer Institute session.
We do not accept course transfer credits, but if you have taken an equivalent course at an equivalent level at a different institution, we may be able to waive that course. The waiver decision will be made by the OEH program director.
You will complete the majority of the program online, however over the course of your studies you will take 2 separate hands-on courses on our East Baltimore campus during the Summer Institute session (2 weeks each).
In addition to coursework, this program includes an independent professional project, which should be employment-based.  Students must submit a final paper that serves as a culmination of the entire educational experience. Results from the project and an overall review of the educational experience are also presented in a seminar for an audience of faculty and students.