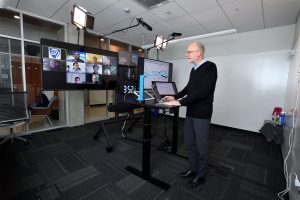 Starting with the Practicing Engineer in Mind to Secure a Better Future
The roots of the Johns Hopkins Engineering for Professionals program reach back to 1916, when the engineering school began offering night classes to technical professionals. In 2001, EP offered its first online class. Two decades later, EP is a recognized leader in offering working professionals around the globe the opportunity to advance their careers through 21 fully– online master's degree programs, with courses taught by engineers who are experts in their fields.  
Reflecting on the program's past and its future are Dan Horn, associate dean, and Paul Huckett, assistant dean for learning design and innovation.
Tell us about the move from night school in-person classes to online. What need was the program seeking to fill?
DH: EP entered the online market in response to student needs – working professionals who were traveling during the week or were temporarily staffed away from the local area and had no way to complete a fully on-site course. It's no different now. EP's asynchronous online courses are built for flexibility – students can engage with the course content from anywhere at their convenience. It's just that we've been able to widen the aperture now that full degree programs are online.
Describe EP's evolution from a single course to its position now as a leader in online graduate education.
DH: We've grown as a result of several contributing factors. First, students showed a strong preference for online coursework and began to "vote with their feet," enrolling in large numbers from the beginning. Other EP faculty members recognized student preferences and quickly adapted. To support faculty in migrating their courses to an online format, EP opened the Center for Learning Design and Technology in the early 2000s, providing instructional design, multimedia, and instructional technology support. The next big step was moving a full program online because this meant that a remote student could complete the master's degree without traveling to Baltimore. EP has grown in the same way that it was established: by crafting programs in high-demand fields that cater to working professionals. One online course in 2001 has now grown to more than 600 online offerings, serving a student body of nearly 5,000 strong.
What makes EP's approach and offerings so successful?
PH: The answer is the expertise of the faculty, the students that learn and share, and the support provided to both to ensure a highly engaging, innovative, and rigorous learning experience. Each online course at EP goes through a process that pairs instructors with experts in design, technology, media, and teaching to incorporate research-support practices. This high-touch support enables faculty to focus on creating top-quality content while ensuring the students have a course that is easy to navigate (on any device) and can connect and engage with peers and the instructor(s). Another example of the online course quality at EP is the real-world projects that the faculty—the majority of whom are practicing engineers—add to the courses. These authentic experiences allow students to collaborate on efforts directly related to their work. Finally, EP courses are always looking to push the boundaries of online learning. For instance, several are working to allow students to interact directly with objects and environments via immersive technologies.
Describe how EP's longstanding expertise help all faculty at Whiting School of Engineering agilely pivot to online learning at the onset of the COVID-19 pandemic.
PH: EP instructors and course design and technology specialists guided and supported faculty in setting up key technologies, such as video conferencing and learning management system tools, to allow them to teach remotely. EP also provided expertise in setting up instructional spaces (classrooms and conference rooms) to enable faculty to teach from those spaces to students who were participating remotely and offered resources and training to ensure that faculty used effective online teaching practices.
How does EP foster a sense of community for its online students?
DH: Building a sense of community among students is one of the biggest challenges any online program faces. At EP, we've tackled that in several ways. First, we implemented a very successful Microsoft Teams Student Community that offers students opportunities to interact organically via chat, audio and video, and creates department-level groups for student-student, student-faculty, and student-staff communication. In addition, this fall, EP ran its inaugural Connect-to-Campus Student Summit, where we invited all EP students to the Homewood campus in Baltimore for a day of tech talks, workshops, program towns, and lots of networking. It was extremely well received and will become an annual event.
Who are today's EP students?
DH: While online coursework has allowed the EP student body to spread beyond the Baltimore-Washington, DC metropolitan area, we're still a U.S.-dominant program — about 95% of our students are in the country. While we continue to maintain our focus on serving domestic engineers, moving EP into international markets is another goal in our strategic plan. There are lots of very talented engineers beyond our borders, and we're actively working with partners who can help us build channels in South America, India, and Europe.