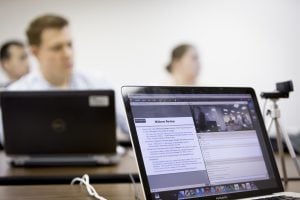 You may be surprised to learn that remote learning surfaced on college campuses in the 80s with the advent of new technologies for the time. Before the 21st century, we referred to this new model of education as "distance learning." In the past several decades, online learning has become the norm. And due to the pandemic, in just the past few years, hybrid schooling has morphed into the new normal.
In this current environment, different types of online classes for a master's degree are the expectation. Due to the demands and needs of its students, institutions all over the world now offer two pathways: online asynchronous vs synchronous classes. 
Asynchronous vs. Synchronous Classes
The first step is to choose the best learning environment for your master's level education. Each student is unique  in the way concepts and knowledge is processed and understood. Recognizing thisis the key to fully understanding the differences between synchronous and asynchronous online learning.
When considering asynchronous vs synchronous, know that, for both, students can sign in from any place that is convenient for them. Both groups are given ample opportunities to connect with their professors one-on-one as well as to join their classmates in networking events.
Asynchronous Classes
Asynchronous learning is marked as any type of education, instruction, or learning mechanism that does not take place in the same place or at the same time. Hence, in this context, asynchronous classes are those which are not confined to the classroom or a specific schedule.
With asynchronous online degree programs, there are no live lectures. Instead, students access and view the instructional materials at the most convenient time for them each week. Although students must complete quizzes, tests, and assignments within set guidelines and due dates, it is a relaxed and self-paced schedule. It can best be described as a learner-centered, self-paced educational program.
For students who will also be working and who therefore place flexibility first, it's an enticing style of learning. With asynchronous learning, the student dictates their learning schedule, for the most part. They need to complete assignments within a certain period but can access and review materials, i.e., lectures, readings, and homework, whenever they choose within a given week to two-week time period.
One of the positives for this type of course is that it is learner-centered. It removes the hindrances of time (and locale) and allows the student full reign. This is a stark shift from traditional learning style and best meets the needs of the student through total empowerment.
A drawback of asynchronous classes is the lack of live group discussion. It does not lend the opportunity for the student to engage in a "classroom environment" or practice their presentation skills. It can leave the student feeling alone on their journey to a master's. There are message boards and other types of discussion platforms, but the live conversation and verbal exchange is not a central part of asynchronous courses.
Synchronous Classes
Synchronous learning refers to any form of instruction, learning, or education that takes place at the same time but not in the same place. In the context of an online program, synchronous classes are remote and abide by a set semester schedule, and students can log in from anywhere.
In a synchronous program, classes are live. Students are expected to log in and participate throughout the week at a given time(s). It is considered the more traditional mode of learning and preferred for course progression. Questions and discussions take place "right then and there." There is also time for student collaboration and companionship.
Many students feel that this is the best of both worlds. They can reap the benefits of interacting with their classmates and instructors "live" but in the comfort of their own home or office or wherever they choose to participate in class. It is the perfect blend of traditional learning mixed with the flexibility of our modern-day perks.
Let's look at the pros and cons of synchronous classes. Students can  log in from wherever is most convenient and attend class in real-time. They have the opportunity to collaborate with others and engage in deep discussions with peers and professors. They can fine-tune presentation skills with synchronous classes and get immediate answers to their questions. Community and connection are at the core of this online program.
What is sometimes a hindrance to a good experience with synchronous classes is technical hiccups. As we are all very familiar with, sometimes the technology that saves the day also disrupts it. Wi-Fi connections can be amiss or glitchy. Another negative is that it can be hard to coordinate schedules to meet with team members and faculty.   
Types of Online Classes
The viewpoint of universities has changed these past several years. In this increasingly mobile way of life, earning an advanced degree has never been easier. With so many students balancing work and families, there are now a variety of online programs to choose from. Students are the true navigators of their ships.
It's no longer a decision of taking classes on-campus or online. Johns Hopkins University's Engineering for Professionals has been offering online graduate courses in engineering since 2001. Understanding the importance of different learning styles and preferences, the program's busy students may opt for one of these types of courses:
Virtual Live (synchronous)

Hybrid (a mix of asynchronous and synchronous)

Home-to-Hopkins

(one year fully online, one year in Baltimore)
Sometimes, it depends on where you reside. Other times, it may be contingent upon your work plans. For example. Home-to-Hopkins provides the opportunity for international students to study in year one from their home country, then relocate to Baltimore to complete the program in year two with online and on-campus courses. In this modern era in education, the classroom comes to you. There are no limits to what elite universities will do to accommodate your best ways to learn. 
Asynchronous online degree programs
It also isn't always just a question of asynchronous vs synchronous classes anymore. Some entire degree programs can be offered asynchronously—not just the classes. Balancing work, life, families, and school can be challenging, so even the most prestigious schools in the country are structuring their programs to make online learning work for YOU. The Johns Hopkins University Engineering Program for instance is 100% equipped to meet the needs of working professionals and those trying to keep several balls in the air—be it a little asynchronous, all, or a some kind of a mix. 
The truth about higher education today
Top-notch universities are sourcing advanced tech and innovative tools to give you the very best in higher education. Imagine a program that considers your every need, and is designed to fit even the busiest of schedules, like yours. 
Online programs are no longer experimental but are now the "tried and true." They have been improved over time to deliver excellence in education.
For instance, the Johns Hopkins University's Engineering for Professionals program, ranked #12 by U.S. News & World Report in 2022,  is not new to online learning. With two decades of delivering online master's degrees, the program has a vast selection of asynchronous and synchronous course delivery options while infusing opportunities to build community and provide engagement activities for students.  So check out our program page if you want to learn more. Take into consideration your study-life balance and the style that best suits your learning. Don't forget to peruse the one-stop resources page for prospective students in your same situation.
Weigh the benefits of each, and reach out to admissions with any questions.