We've Got Staying Power: 20 Years of Online Education
In 2000, less than 7% of the world was online. Fast forward two decades and more than half of the global population has access to the internet. Apple sold its first iPod in 2001, with the widely popular iPhone introduced a few years later. There were 740 million cell phone subscriptions worldwide; 20 years later, there are more than 8 billion.
There are countless shifts in technology that change our way of life and create a demand for the right workforce to design, support, and advance it. Bridging innovation and education and flexible learning is what we do best at Johns Hopkins Engineering for Professionals.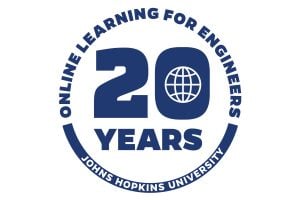 Long before the pandemic ushered in a "new norm" for online education, we were already a well-established leader in virtual education, exhibiting the staying power that knowledge-seekers can rely on. We've spent the past 20 years building one of the most robust, trusted, online graduate engineering programs in the country, offering our first online course in 2001. We now offer more than 750 online courses across 22 engineering disciplines with more than 22,000 alumni.
Join us as we reflect on two decades of translating advances in technology into a progressive and visionary curriculum for the leaders who are engineering tomorrow.
9 Questions Answered by Our Experts
Will autonomous systems take their projected places in our homes, in hospitals, and in society as planned? How will technology impact climate change? Our experts and program chairs weigh in on what the future holds for society and engineering.
On Course with Technology
We started with Probability and Stochastic Process as our first course. What courses have been redesigned or launched to expand the skills of the engineers designing for our future? How are they relevant today and tomorrow?
The 20-Year Club
From securing a promotion within five years of completing a master's degree to long-time faculty sharing memorable milestones of innovation, hear about the moments that stand out in our workforce engineers' careers.