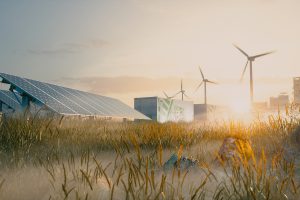 Inspired by his grandparents to pursue

environmental engineering and science

, Chris Overcash, program manager and instructor, highlights the future of the discipline and the important role of nature-based solutions.
What technology do you see your field changing/heading in the next 5–10 years? 
Technology is being rapidly developed in the environmental engineering field to effectively mitigate and adapt to the impacts being created by a changing climate. These strides in technology are going to be absolutely essential to both protecting and designing infrastructure and for protecting natural resources for this rapidly advancing issue.
What specific new courses have you introduced or redesigned over the last five years to meet the needs of engineers in your field? Why are these courses important? 
There is a wide range of courses that have been introduced or redesigned in the environmental programs over the last five years, 16 in the last year alone including three new courses. In the field of environmental engineering, advancement happens rapidly and it is critical to the program to both revise existing courses and look to new opportunities to expand.
What is your favorite course to teach? 
Introduction to Environmental Engineering—This course provides an opportunity to not only talk about the basics of environmental engineering but to convey to the students how much groundbreaking technology is being implemented in the field.
Has the profile of online students changed? If so, how? 
Generally, it has not. We continue to see an average student age in the low 30s, and these students are looking to gain more knowledge to advance their career or switch career paths.
What are the essential skills that a student will need to be successful as an engineer, especially considering the technological advances now and in the future? 
Because of the fast pace of advancement of technology and environmental impacts today, the successful engineer must not only understand present-day engineering knowledge but also be creative-minded to be able to solve potential future challenges facing humanity.   
What is one key engineering technological development that you find most interesting and why? 
A development occurring now that will change the world is the harnessing of nature-based solutions to provide resilience to a changing climate; this is called engineering with nature by the U.S. Army Corps of Engineers. As an example, teams of engineers are undertaking research to use nature and natural principles, such as vegetation and dredged sediment, instead of large concrete structures to protect coastlines from rising seas. The primary reason is that there is not enough concrete on earth to do the job of protecting exposed infrastructure and natural resources from the projected impacts. 
What inspired you to become an engineer? 
Two things; my grandparents owned a cabin in the woods in which I was able to explore the environment and understand how it works from a very young age. And secondly, seeing the immense impact of human influence on resources such as the Redwood National Park during trips I took across the country in my youth.
Describe your role and job responsibilities. 
In my role as Program Manager, I have the chance to help identify opportunities to grow the Environmental Programs at EP and to reach out to partners in the industry and government to explain not only our degree options but the wide range of outreach items we can provide including short courses and certificate programs. In my role as an instructor, I am able to help mold the talent of the future and steer them toward rewarding careers in environmental engineering. Finally, in my role as Deputy Director of Coastal Resilience at a national engineering firm, EA Engineering, Science and Technology, Inc. PBC, I am helping to generate the knowledge that it will take to solve the looming issues of climate impacts on our coasts and infrastructure through research and project work.
What advice would you give to mid-career engineers? 
Take the chance to gain knowledge through programs like EP at Johns Hopkins to not only advance your career but to position yourself to be the leader that provides solutions to the looming problems that the world is facing including aging infrastructure and climate impacts. It is both rewarding and absolutely necessary for society.