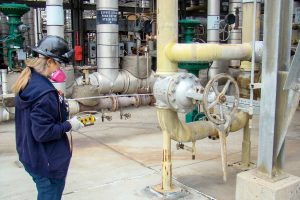 The ABET-accredited Occupational and Environmental Hygiene program, which can be completed part time, online, or full time through the School of Public Health, prepares students to become leading health professionals capable of addressing problems in environmental and occupational settings. Students will study industrial hygiene, risk analysis and management, environmental sampling techniques, air pollution, program management, toxicology, epidemiology, biostatistics, and occupational health.
"Graduates of the program go on to work in consulting, private industry, and the government, and they are also prepared to pursue doctoral studies in environmental health sciences," according to Kirsten Koehler, program chair. "We are excited to bring together the Bloomberg School of Public Health and the Whiting School of Engineering to provide students with the opportunity to become leaders in the industry."
Unlike other programs offered through EP, this program requires the GRE and is managed by the Bloomberg School of Public Health. For more information about the program, be sure to check out the website.