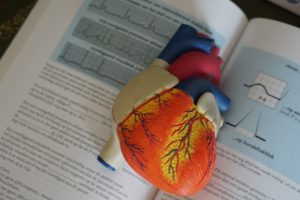 A cardiac anesthesiologist and critical care interventionist at the Johns Hopkins Hospital, Michael Grant is acutely aware of challenges that health care teams face when seeking to provide the best care to patients undergoing and recovering from cardiac surgery.
"Medicine is replete with a host of evidence that supports the use of certain interventions that are shown to improve patient outcomes. Unfortunately, these are often represented by highly regimented protocols, very specialized settings, or expensive patterns of practice. In short, they don't reflect the real-world application of care in the perioperative setting", Grant said.
Conversations about these issues with his father, a systems engineer at the Johns Hopkins University Applied Physics Laboratory, and with his brother, an engineer at General Dynamics, made Grant realize that solving such complex problems would require a different approach than those typically used in medicine. As a result, he not only enrolled in Johns Hopkins Engineering for Professionals' Master of Systems Engineering degree program, but he also designed an Enhanced Recovery Program for Cardiac Surgery as his final project.
Grant began by identifying what he calls a series of significant problems encountered by patients on the cardiac care unit, including prolonged periods of mechanical ventilation post-surgery; extended use of perioperative opioid pain medications; and lengthy hospital stays, sometimes leading to pulmonary, kidney, or other organ issues.
Then he and a team of surgeons, anesthesiologists, nurses, physical therapists, nutritionists, and administrators, among others, decided on what key patient outcomes they wanted to improve. Those included reducing dependence on opioid pain medication and ventilators, as well as getting patients out of the hospital and back home sooner following surgery.
"We then identified seven interventions that we could employ to make those improvements happen through the care we provide", Grant said. "Along the way, we carefully utilized the entire systems engineering framework to develop a full, robust, and sustainable program."
"The key was to outfit the overall system in such a way that providers could consistently provide these elements easily and effectively", he explained.
Grant reports that although the new system is working well in his unit, such solutions may look different in other medical settings.
"The process is what helped us realize that this solution is what would work for our local practice", he said. "Other places may need to employ different interventions, address different local problems, and so on. Like any systems engineering solution, it would need to be adapted to the local constraints of the practice environment."
Grant said he and his team expect they will need to continuously revisit their own program and adjust it, and are already working to identify additional patient outcome objectives to tackle.
Subsequent iterations are already underway, including measures to improve other organ function, reduce the negative impact of surgery on brain function, and reduce specific costs of care, he explained.
In addition, he is working to introduce the systems engineering approach into the national conversation to help institutions approach developing their own programs.
"That work is ongoing through collaborations with like-minded leaders in the medical field, presentations at large medical societies, and in building similar programs at other institutions", he said.
The Systems Engineering program at Johns Hopkins Engineering regularly highlights the design projects and in-depth thesis research of its students. We will continue to make these presentations available so that they can benefit the entire systems engineering community.