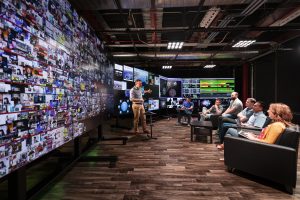 As technology continues to advance and play an increasingly important role in our daily lives, the need for skilled and knowledgeable professionals in the field of cybersecurity has never been greater. 
From the increasing demand for cybersecurity professionals to the high earning potential, it can be easy to see why seeking a graduate degree in the field is worth pursuing, both for career switchers and those already working in the industry. 
Here is a look at what you can do with a Master's in Cybersecurity, including job titles and role descriptions, and how to plan your next steps.
Benefits of
Getting a Master's in Cybersecurity 
New Career Opportunities

Potential Salary Increase

Increased Job Security

Flexible Learning Schedule
New Career Opportunities 
A master's degree opens doors to new job opportunities and promotions. You will gain industry-specific skills as well as leadership and management skills, which can fast-track your career advancement. And cybersecurity is more important now than ever, so there are many companies looking for educated and skilled cybersecurity professionals. You'll also find there are job opportunities in almost every state, in both the private and public sectors.
There are several industries that place a heavy emphasis on cybersecurity master's degrees: 
Healthcare

Financial Services

Telecom Technology

Construction

Energy
Potential Salary Increase
A Master's in Cybersecurity could lead to salary increases, depending on your organization, industry, and the type of experience you have. Companies understand the importance of cybersecurity and are willing to pay top dollar for candidates who have a high level of education. In fact, your current job may be willing to pay for your master's degree.
Increased Job Security
Securing a master's degree often comes with increased job security, especially as cybercrime continues to rise alongside new connected technologies and devices. Getting a master's in cybersecurity also helps pave the way to learn cutting-edge industry trends and leverage your knowledge and skills.
Flexible Learning Schedule
Depending on where you pursue your degree, you can pursue a Master's in Cybersecurity while still maintaining your current job and personal commitments. Johns Hopkins University provides flexible degrees, programs and certificates to help advance your career.
What is the Curriculum for a Master's Degree in Cybersecurity?
Another distinguishing feature of a master's degree in Cybersecurity is its rigorous curriculum. A quality program's curriculum develops proficiency in four significant areas of cryptology, including encryption, hash functions, signature schemes and authentication. After laying the groundwork with some requirements, students can often focus on a specific area of study:
Analysis –

Provides a deeper understanding of security issues such as forensic patterns, intrusion detection rules, ethical hacking techniques, and reverse engineering.

Assured Autonomy

– Dives into the complexities that are inherent in autonomous systems. Students also learn multifaceted and multilayered approaches necessary to secure Learning-Enabled, Cyber-Physical Systems (LE-CPSs).

Networks

– Studies the security of clouds, protocols, data communications, covert channels, wired and wireless networks and the internet.

Systems

– Explores the security of computing devices ranging from typical architectures to embedded and real-time systems—study topics like secure system design, authentication solutions and application software.
What Can I Do with a Master's in Cybersecurity?
A master's degree in cybersecurity opens up a wide range of career opportunities. With the increasing demand for cybersecurity professionals, the job outlook for graduates in this field is extremely positive. The Bureau of Labor Statistics estimates a 35% job outlook for 2021-2031 for security analysts—a rate much higher than average. Below is a glance at standard job titles and descriptions for professionals with this degree.
Chief Information Security Officers

Cybersecurity Analyst

Security Analyst

Governance or Health Information Security

Cyber Threat Analyst

Security Project Management

Penetration Specialist
Chief Information Security Officers
A Chief Information Security Officer (CISO) holds a C-level, senior-level executive role within an enterprise organization. They help oversee personal and organizational data protection, assets, infrastructure and IT security. They also play a critical risk assessment role, including mitigation, solution and acting in the company's best interests to reduce or eliminate threats before they infiltrate and cause damage.
Cybersecurity Analyst
A cybersecurity analyst is a trained cyber professional specializing in IT and network infrastructure security. These analysts have deep knowledge about cyberattacks, malware, and the behavior and motivations of cybercriminals and actively seek to anticipate and prevent these attacks.
Security Analyst
Security analysts monitor an organization's networks for security breaches and take action to investigate and resolve the issue. They use a combination of firewalls, encryption programs and software to help protect their most sensitive information. 
Governance or Health Information Security
Governance or health information security ensures an organization has all the proper administrative controls in place to mitigate risks and analyze any vulnerabilities. The role is especially crucial in the healthcare industry, where clients' sensitive information needs to be protected and remain compliant with HIPAA, which requires safeguards across administrative, physical, and technical aspects of the industry.
Cyber Threat Analyst
Cyber threat analysts use their skills and knowledge to gather and analyze data to report vulnerabilities and solutions with appropriate departments. There are several jobs that fall under cyber threat intelligence, including: 
Strategic threat intelligence

Tactical threat intelligence

Technical threat intelligence

Operational threat intelligence
Security Project Management
Some industries that rely on technology, such as banking and healthcare, rely on  security project management specialists to ensure the creation of security systems is safe and remains that way. These specialists may also lead a plan to mitigate potential threats to a company, improve overall site security, run safety drills, test safety systems and train staff to follow safety protocols.
Penetration Specialist
Penetration specialists, sometimes called "ethical hackers," purposefully hack into a computer network to test or evaluate its security. They expose vulnerabilities in systems and find solutions to prevent future issues and malicious attacks.
Get Your Master's in Cybersecurity Online
Johns Hopkins University provides the education, experience, and preparation you need to pursue a rewarding career in cybersecurity. Whether you are transitioning into the field of taking your skills to the next level, we offer flexible learning options that allow students to advance their careers while still working. 
If you are ready to take the next steps in your career and are interested in getting a Master's in Cybersecurity, explore our program page or reach out to admissions with any questions.