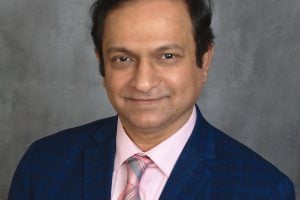 Ashutosh Dutta, a senior scientist and chief 5G strategist at the Johns Hopkins University Applied Physics Laboratory, chair of Johns Hopkins Engineering for Professionals program in electrical and computer engineering, and team member at the Johns Hopkins Institute for Assured Autonomy, been named a 2021 Distinguished Member of the Association for Computing Machinery (ACM) for "Outstanding Scientific Contributions to Computing."
The ACM Distinguished Member program recognizes up to 10% of ACM worldwide membership based on professional experience and significant achievements in the computing field. To be nominated, a candidate must have at least 15 years of professional experience in the computing field, five years of professional ACM membership in the last 10 years, and have achieved a significant level of accomplishment, or made a significant impact in the field of computing, computer science or information technology. A Distinguished Member is expected to have served as a mentor and role model by guiding technical career development and contributing to the field beyond the norm.
A highly accomplished electrical engineer and computer scientist with expertise in the areas of wireless, cybersecurity, and mobility, Dutta has 35 years of experience in IT operations, research and development for leading global technology R&D labs, major universities, in startups, and in teaching. He currently serves as a lecturer, associate research professor, and Lawrence Hafstad R. Sabbatical Fellow at the Johns Hopkins University Information Security Institute (ISI), and teaches ECE classes at EP.
Dutta is an IEEE Fellow, an IEEE Communications Society's Member-at-Large, ACM Distinguished Speaker, and IEEE Distinguished Lecturer, has published more than 100 papers, and has 31 issued patents. Dutta has been serving as founding co-chair IEEE Future Networks Initiative, chair for IEEE Open RAN Initiative and chair for recently formed ACM Baltimore Chapter. Dutta has an MS in Computer Science from NJIT and PhD in Electrical Engineering from Columbia University and is a recipient of distinguished alumnus award from NIT Rourkela.