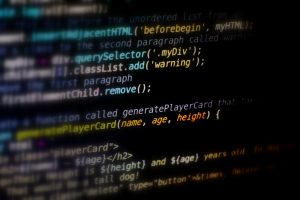 Students in the 24-week, part-time Coding Boot Camp at Johns Hopkins Engineering will learn the front-end and back-end skills necessary to become proficient full stack developers. Enrollment for the course, which begins on Tuesday, Sept. 24, and comprises two three-hour evening classes each week and one four-hour class on Saturday, is now open at bootcamp.wse.jhu.edu.
The Coding Boot Camp at Johns Hopkins Engineering offers a market-driven coding and career curriculum taught by industry professionals that helps participants build the competence and confidence to succeed in the technology industry. Its curriculum covers the basics of coding, algorithms, and data structure plus intensive training in HTML/CSS, JavaScript, Node.js, React, and more. No previous training or experience is required, but an understanding of coding basics is recommended.
In addition to classroom instruction, participants will spend a minimum of 20 hours a week on outside projects and homework. They'll also build a professional project portfolio to showcase their abilities and hone their competitive edge in the employment market. Participants receive a range of career-planning services, portfolio reviews, recruiting assistance, and extensive staff support.
Boot Camp participants will gain skills to develop dynamic end-to-end web applications, as well as receive a Certificate in Full-Stack Web Development from Johns Hopkins Whiting School of Engineering. The program does not offer academic credit toward a diploma-bearing degree.
"We want to help uncover the talent pool of people in Baltimore who could fill the region's growing number of technology jobs," said Daniel Horn, associate dean for Engineering for Professionals at the Whiting School of Engineering. "Johns Hopkins University is committed to building resources and creating opportunities for this great city."
As the demand for technology skills skyrockets and the national unemployment rate drops to its lowest point in years, Baltimore's employers are hungry to hire job-ready tech talent. Last year alone, companies in the Baltimore area struggled to fill more than 36,000 open roles requiring some level of coding ability. According to recent research from McKinsey, web development ranks among the nation's fastest-growing professions, with demand for coding and advanced IT skills set to grow by over 90 percent in the next decade.
To learn more about the Coding Boot Camp at Johns Hopkins Engineering, visit bootcamp.wse.jhu.edu.