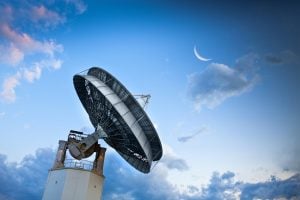 Knowing what you can do with your master's in electrical engineering and what to expect in terms of jobs for master's in electrical engineering holders may determine whether you keep your current job and grow naturally through your day-to-day work, or decide that an engineering master's degree or certificate option fits  your personal and professional goals better.  
Before you head to graduate school, take the time now to understand what lies ahead, so you can plan how to balance your job, your life, and your new studies with confidence. 
Options with a Master's in Electrical Engineering
Knowing what you can do with your graduate degree and how you can apply it to new jobs or how you can leverage it to earn a promotion is what most prospective students are interested in when researching master's programs. Below are some ways and reasons a master's in electrical engineering can widen your job prospects and support your career advancement goals. 
Specialize
For many, the purpose of a master-level program is to become the subject-matter-expert in one or two specific areas within the field. It's also a great complement to your existing professional experience to help you earn a promotion or a higher salary. Narrowing your focus through a master's program and concentration, and being selective with elective classes, gives you control of what you study for a highly-tailored approach that lets you, well, master the subject. 
Common areas of focus in electrical engineering include:
Biomechanics

Manufacturing

Solids/mechanics of materials

Robotics and controls
Stay Relevant
In addition to becoming a master in your area, a master's degree allows you to  learn about new trends and technologies, become more engaged in the latest changes in your industry, and apply new knowledge in your approach to your job and career. Dedicating time to keeping your skills relevant helps position you as an essential  long-term investment in your current company or sets you apart from other candidates while applying for new jobs. 
Plus, the field of electrical engineering is changing at such a rapid pace that the topics and content you studied during your undergraduate may no longer be relevant to what you do or where the field is heading. Planning for the future may mean taking some time for a refresher. 
Salary Boost
The numbers show that with an advanced degree comes additional dollars. In almost any field—and electrical engineering is no exception—a master's degree is a paycheck bonus with high ROI. The exact numbers may vary depending on what your current role is and what your ideal new role may be, but in just about every case, employers bump up your pay as a result of a master's degree. 
Break Into a New Field
Your bachelor's may have specialized in one field, but now you're interested in another—a common situation. A master's program in electrical engineering can offer you the opportunity to uncover new fields, interests, industries, and more, all while building up your credibility in that new area. 
Focus on the medical, consumer, and/or industrial spaces. Wireless wearable tech, wireless power transfers, internet of things, energy-saving and climate-friendly technologies, drones and more are all new fields advancing at a breathtaking pace. Get your foot in the door with your master's.
It is also forward-thinking to envision what you might do in terms of inventing something on your own if you have the innovative and entrepreneurial spirit and your current job is too stifling. The money could be enticing, and the concept of truly being a part of bringing a new invention into the world is thrilling.
Jobs for Master's in Electrical Engineering
Like all wrapped gifts, it's fun to see what's inside the box. Education is the same way. What can you do with a masters in electrical engineering? Envision precisely what a future with such a niche degree carries with it. 
Check out a sampling of the many career opportunities for professionals who hold a master's in electrical engineering.
Broadcast engineer

(average $80k): This job blends electrical, computer and information engineering to keep television and livestreaming broadcasts up and running. It can include running the actual broadcast and developing new technologies as the airways shift to more advanced technologies. 

Control and instrumentation engineer

(average $93k): This role is often the foundation for many other aspects of engineering. These engineers create, design, test, and monitor engineering systems, machinery and processes, often at the services of manufacturing companies. 

Systems analyst

(average $84k): Systems analysis combines electrical, computer, and information engineering to perfect information systems. A systems analyst specializes in identifying gaps and solutions and creating plans to address and implement their work. 
There are others that require a different skill set altogether. Think about a:
Management consultant

(average $119k): Holistic in nature, engineering management consultants specialize in addressing business-related issues/opportunities that steam from technical and engineering concerns. This takes a firm understanding of both the technology, business goals, and project management. 

Project manager

(average $105k): Similar to a management consultant, an engineering project manager understands the ins and outs of the technology, but works primarily to make sure projects stay on track, are completed, and implemented on time and under budget. 
Mix your acumen for communications and business to further your career as a: 
Technical author

(average $100k): Technical authors combine their deep understanding of engineering principles with a knack for words. They assist in writing articles for journals, compiling research into papers, and in helping hands-on engineers get their ideas out to investors, the public, and other engineers. 

Technical sales engineer

(average $98k): The best corporate sales representative  has a firm understanding of the product, how it works, and how it's made. Technical sales engineers know how to speak electrical engineering, how to sell it, and what's needed to showcase its promise to potential clients. 
Example Career Path with a Master's Degree
Should you continue to be in electrical engineering? Are you happy with your current career? If you want more or are unsure, consider taking a test to figure out whether a change in career is  best for you. Some of these jobs require pure science. Others call for more creativity. 
Let's look at a potential career path for a hypothetical "Marie". Marie earned her degree in computer science about seven years ago. 
After working at a mid-sized company as a software developer for five years, Marie decided that she wanted more—in particular, to advance within the company and learn more about robotics and its role in electrical and computer engineering. Fully vested, Marie was able to take advantage of her company's tuition assistance program and decided to pursue a master's degree in electrical and computer engineering.
After earning her degree online and part-time while she worked, Marie applied for a position and was  promoted to  a new position within her company as a senior robotics engineer. Her work helped the company improve its offerings and add to their overall profit. After a few years in this role, Marie became interested in becoming an electrical engineering management consultant. 
With her experience working throughout her company and in both computer science and robotics/electrical engineering, she gained a thorough understanding of how to approach engineering concerns from a business perspective. Starting her own business, she now consults with clients about how best to implement electrical engineering concepts, principles, and advances to improve their bottom line and products. 
Earn Your Master's in Electrical and Computer Engineering Online
In this age of information and all-things digital, furthering your education and your career has never been so easy. Johns Hopkins University offers a Master's in Electrical and Computer Engineering that's part-time and online, allowing students to work and study at the same time. 
Unique to this program is Johns Hopkins' in-depth career services benefits. We provide our students access to a vast alumni network and tools to get them on the right path for the next phase of their career as managers and senior leaders.
The science of electrical engineering has evolved so much in such a short span of time. Whether you're looking to switch fields, narrow in on one area, get a boost in salary, or refresh your knowledge, a master's is likely a great option for you. 
If you ever wondered, "what can I do with a master's in electrical engineering?" rest assured there are a  large number of opportunities in the field and electrical engineers with advanced degrees are in high demand. Check out what Johns Hopkins Engineering program has to offer. Our admissions representatives are standing by and can't wait to hear from you. Contact us today.