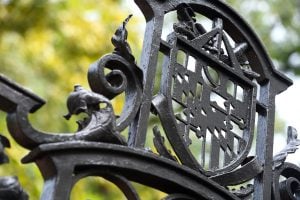 Overall, the Whiting School's online graduate programs jumped to the No. 11 spot (tied with Texas A&M University, College Station, and University of Florida), up from No. 13 last year, and its online computer information technology programs maintained its place at No. 2.
This year, for the first time, civil engineering was included among specialties ranked, and WSE's online program landed at No. 4. Engineering management held its No. 1 spot, while electrical and computer engineering slipped from No. 3 to No. 5;  mechanical Engineering from No. 3 to No. 4, and industrial/systems engineering from No. 3 to No. 8.
The Best Online Engineering Programs includes a review of online and part-time programs such as applied biomedical engineering, electrical and computer engineering, engineering management, mechanical engineering, space systems engineering and technical management. The Best Online Information Technology Programs category includes a review of the online and part-time computer science, cybersecurity, data science and information systems engineering programs.
U.S. News ranks the nation's best online graduate programs in seven disciplines, as well as the best online bachelor's programs. Rankings are determined by five weighted criteria: student engagement, faculty credentials and training, student services and technology, peer reputation, and admissions selectivity.
More than 4,000 students across the country are enrolled in Johns Hopkins Engineering's online and part-time programs.
These rankings exemplify Johns Hopkins Engineering's unwavering commitment to online learning, and a continued focus on meeting the education demands of the engineering and technical workforce, according to Dan Horn, associate dean for the Whiting School of Engineering's Engineering for Professionals.
"For nearly two decades, our program has steadily evolved, with innovations in instructional techniques that provide students with the support, knowledge, and experiences they need to advance their careers," said Horn. "These programs and courses always reflect the latest in technologies, ensuring that our students apply what they learn to real-world situations."
Instructional designers create courses and curriculum content that are specifically customized and designed for online delivery, which allows for optimal engagement and learning, according to Horn.