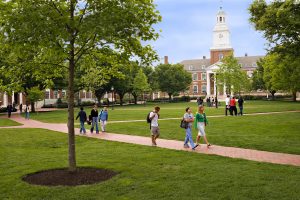 The Whiting School jumped to No. 2 (up from No. 5 in 2019) among online computer information technology programs and is No. 13 in rankings of online engineering programs, tied with Arizona State.
New to the rankings this year were several engineering programs at approximately a dozen schools which were evaluated exclusively by peer review. The Whiting School's engineering management program earned the No. 1 spot, and its electrical, mechanical, and systems engineering programs all were ranked No. 3.
More than 3,000 students across the country are enrolled in the Engineering for Professionals online and part-time programs. Dan Horn, associate dean for Engineering for Professionals, says these courses are particularly attractive to students because they are designed specifically and exclusively for the online educational environment and are not adapted from curricula meant for classroom use.
"As always, our focus is on creating and providing innovative and relevant programs and courses that provide students with the knowledge and experiences they need to advance their careers", Horn said.
U.S. News rankings for online graduate programs are categorized into seven disciplines and are based on scores in five weighted areas: opportunities for student engagement, faculty credentials and training, expert opinion of the program, student services and available technologies, and student excellence.


Originally posted by The Hub on January 15, 2020.