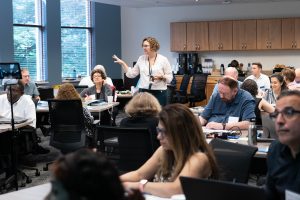 We recently caught up with Christian Davies-Venn (Environmental Engineering), Buck Buchanan (Technical Management), and Geetha Rajasekaran (Computer Science), to discuss their experiences as part of the inaugural Faculty Forward class and to hear how they're using what they learned to enhance their students' experiences.
Q1: Why did you enroll in the program?
Teaching online presents many unique challenges versus teaching in a classroom, said Buchanan. I viewed the Faculty Forward program as a potential source of ideas to make teaching online better and increasing the student's online learning experience.
Davies-Venn said he was prompted to participate by my desire to learn more about how I can improve my online teaching and to find out how other faculty members were addressing some of the challenging issues in the online environment. The Faculty Forward program presented the perfect opportunity for me.
Q2: Was the program worthwhile? What elements were most useful?
It was a highly valuable experience for me. I had a great time interacting with other experienced faculty members and I learned new, interesting teaching methods, said Rajasekaran. In particular, she valued the opportunity to learn from other faculty members who have different teaching styles from her own. She reports that the new teaching techniques she brought back from the program garnered positive feedback from her students.
Q3: Would you recommend the Faculty Forward program to other Engineering for Professionals faculty?
All three faculty members responded with a resounding Yes! Davies-Venn was particularly enthusiastic, saying Absolutely! I highly recommend this program to other faculty.
Q4: What did you hope to learn?
Rajasekaran said I expected to learn something new, which obviously excited me. I looked forward to learning new and different ways to keep students engaged, to develop new means of interactive learning, and to improve group work and class discussions. This program exceeded my expectations!
Q5: What are some new teaching techniques that you learned?
Davies-Venn highlighted three techniques that he found yielded especially good results in the classroom:
Spark more involvement in class discussions by providing students with thought-provoking topics (current events, news, etc.) that align with course objectives.
Use the "3CQ" format requiring students' responses to include a compliment, a comment, a connection, and a question.
Be sure to compliment and reward students with bonus points for articulating original, creative and innovative ideas.
For more information on the Faculty Forward program visit FacultyForward.jhu.edu.