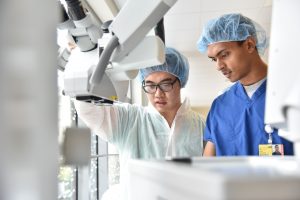 Healthcare Systems Master's Degree Program
This rigorous master's degree in Healthcare Systems online curriculum enables you to re-engineer healthcare delivery on a broad scale. This part-time program combines invaluable systems engineering concepts used at the Johns Hopkins Applied Physics Lab with visionary insight from our top-ranked schools of public health and medicine to become well-versed in methods to streamline processes, reduce costs, and improve care quality.
Ingenuity is what we do at Johns Hopkins, doing so in a pandemic is no different. Engineers at Johns Hopkins created the COVID-19 tracking map that has been used globally to identify known cases. Imagine what you can learn and do with a master's degree in Healthcare from our institution. Now more than ever, professionals with advanced skills at the intersection of engineering and healthcare are essential to protect the health and safety of our society. 
Through the Johns Hopkins online program, you'll be prepared for any challenge across all areas of healthcare, including analysis, design, integration, production, and the operation of healthcare modern systems. 
As a graduate of this program, you will be prepared to:
Develop a systems description or design for healthcare-related systems and processes

Describe the requirements, drivers, functions, components, interdependencies, risks, and quality factors for various healthcare systems and processes

Create new healthcare devices, systems, or policies using a systems approach

Direct the evaluation of healthcare system components and recommend improvements in performance and efficiency

Incorporate humans in the engineering systems design to ensure patient safety and value

Make a visible change and transform lives in the healthcare system
As part of the curriculum, you will build on your core courses by choosing electives in areas of interest to you that help you meet your personal and professional goals. Take online healthcare courses in one or more of the following areas: 
Healthcare Systems

Applied Biomedical Engineering

Systems Engineering
As an Engineering for Professionals student, you also have the opportunity to take courses from the Bloomberg School of Health, such as Statistical Reasoning in Public Health, Population Health Informatics, and more. 
Programs
You can earn a Master of Science in Healthcare Systems Engineering.
Healthcare Systems Engineering Courses
Each course in the Healthcare Systems program is taught by skilled experts who use their concepts they teach in their own careers every day. Explore all engineering online healthcare courses, find course requirements, prerequisites, and elected information. For exact dates, times, locations, fees, and instructors, please refer to the course schedule published each term.
Program Chair Healthcare Systems Engineering
Tuition and Fees
Did you know that 78 percent of our enrolled students' tuition is covered by employer contribution programs? Find out more about the cost of tuition for prerequisite and program courses and the Dean's Fellowship.
Why Hopkins?
Be the change healthcare needs. Start the next phase of your career with Johns Hopkins Engineering for Professionals.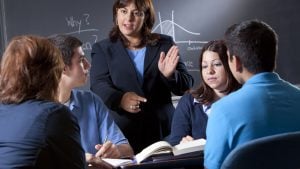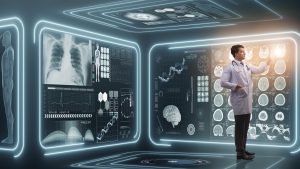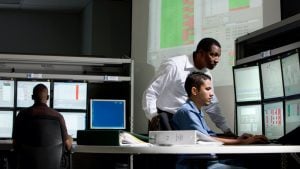 You can still apply for the Healthcare Systems Engineering program even if you don't have a background in engineering. However, we do ask for a minimum of one year of full-time work experience within the healthcare field.
No, they are not. While a healthcare IT master's degree will focus on the technology of healthcare, a healthcare systems engineering degree will focus on how the technologies of healthcare work together and can be improved. Healthcare systems smooth and tackle the complexity of healthcare-related policy, economics, social dynamics, and technology to smooth errors, reduce wait times, and lower the cost of care.
Each of the Engineering for Professionals programs is designed to make working, studying, and living your life manageable. Offered fully online, the Healthcare Systems program lets you study from anywhere in the world—no need to relocate for your degree. You also have five years to complete your program, letting you take one or two courses at a time in a part-time capacity. Program advisors and a community of support help you stay on track and finish your degree. 
Professionals who hold a master's in Healthcare Systems can earn a salary upwards of $90,000.
The best healthcare master's degree will depend on your particular interests. Want to explore the best ways to run a hospital? Try healthcare administration. Interested in working with specific patients or ailments? Look into more medically-focused programs. Trying to start a healthcare-based business? Consider a healthcare MBA program. If your interests revolve around combining engineering and physical principles to solve healthcare challenges, a Healthcare Systems engineering degree would give you that opportunity. 
Find out when registration opens, classes start, transcript deadlines and more. Applications are accepted year-round, so you can apply any time.