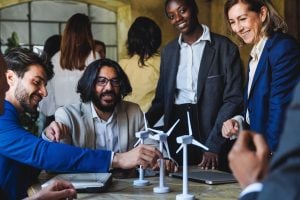 After the launch of the UN's 2015 17 Sustainability Development Goals (SDGs), to be achieved by 2030, the job marketplace for environmental engineers has skyrocketed.  Across industries and countries, there has been an increased focus on the environment, even receiving notable backing from global leaders and various governments.
For these reasons, businesses are stepping up efforts to make good on initiatives that aim to protect Mother Earth. Understanding the different types of environmental engineering jobs that are emerging as a result of this shift is key to planning for your future and choosing the best program for you. Now is the opportune time to level up your knowledge of the current trends in the job market from all corners of the world.
Career Opportunities in Environmental Engineering
Because it is a relatively new career track, or at least one of renewed energy, the currently available types of environmental engineering jobs may not be widely known, even to those who have an undergraduate degree in the subject. 
Career pathways in the field of environmental engineering are ever-changing, and education has followed its lead. There are an array of fields, industries, and focal areas from which to choose.
Related fields
Tackling emerging issues in the environment is at the forefront of any career opportunity in environmental engineering. There are many ways to make a difference, i.e., to remediate the environmental issues that plague the planet,  in the private or public sectors. You can choose from the most pressing fields:
Erosion

Waste Disposal

Water Pollution

Air Pollution

Land Resources

Human Health

Environmental Restoration
Industry-specific
Environmental engineering professionals are desperately needed across a number of sectors, not only because of the increased focus and dollars that are being directed toward the field, but also because of the overwhelming pressure to address sustainability in some form or fashion.
Here is a glimpse of the sectors that are paying top dollar for the skill sets linked to environmental engineering:
Government

Transportation

Remediation/waste management

Water/sewage

Consulting (management/technical/scientific)

Oil/gas/coal

Construction

Architectural & engineering services
Areas of focus
Institutions are able to support graduate students in their quest for deeper know-how in environmental engineering, even in more niche areas. Even within the past few years, graduate education has morphed from traditional to the highly innovative courses and specific areas of focus. The truth is that professionals with a drive toward environmental engineering want to spend their 9 to 5 loving what they do with an understanding that their work has a visible impact. The following focus areas might be worth exploring to make sure you have a job that is fulfilling and one that you enjoy . It may surprise you that environmental engineering is so cross-functional and diverse within multiple fields of engineering. 
Beyond these options, there are tons of different types of environmental engineering focus areas, so talk to peers or a Johns Hopkins Engineering for Professionals admissions specialists to learn more. 
7 Different Types of Environmental Engineering Jobs
There are all different types of environmental engineering jobs with a wide range of specialist positions, engineering roles, and consulting positions that you could pursue. 
Environmental Scientist: a.k.a. environmental specialists
Professionals in this broad area apply their knowledge of the natural sciences to protect the environment and human health. Depending on the industry they end up working in, key responsibilities will vary, but typically include creating strategies that target either the (1) clean-up of polluted areas, (2) reduction in waste, and (3) advisement to policymakers. 
A typical day may include collecting samples, including soil, water, air, or food, and bringing these to the lab to check for contaminants. Regardless of the specifics of their job, working either in a governmental agency, consulting firm, or private business, environmental scientists work to monitor the impact of human choices on the environment, and the impact of environmental changes on humans in order to maintain a healthy balance. The average yearly salary is $99,952.

Natural Resource Specialist
This job calls for the study of sensitive habitats. A natural resource specialists' job may include the observance of wildlife and vegetation and the surveying and mitigating of environmental impacts. This type of specialist builds rules and regulations as it relates to natural resources. 
Natural resource specialists have two key responsibilities. Their end goal is to protect people, property, and resources from things like fires. They are called to restore plants and protect threatened animals. You will often find natural resource specialists within state or federal government agencies, working to enforce protection laws and providing expertise on future ones. The average yearly salary is $67,095.

Land Surveyor
A highly trained professional, this job involves the expert measurement of a plot of land for the purposes of construction and design. The intent is to set up boundaries, establish property lines that may be in dispute, and/or create maps. Land surveyors are necessary in construction, real estate sales, and sometimes are even required to help affirm a legal claim in court. They will often be employed in government agencies or at architectural, engineering, mining, construction, and utility companies. 
Advanced training and education are required to compile varied survey types. They study environmental factors as they relate to soil type, vegetation, and waterways. The average yearly salary is $187,450.

Environmental Engineer
Environmental engineers act as advocates for the health and well-being of their communities. They do this through advocating for environmental-friendly policies and programs. An environmental engineer also works on construction or logistics projects that may impact the public, performing tests to determine if anything is or would be hazardous if it came in contact with people. Environmental Engineers can work in with urban planners, be on-hand at construction sites, or perform tests in labs.
Environmental engineers are brought in for the remediation and elimination of hazards in the environment. They make sure there is clean drinking water, help governments or businesses reach sustainability goals, assist in rebuilding infrastructure, and planning for alternative energy solutions, just to touch on a few of the industries and solutions they offer. The average yearly salary is $92,120.

Public Health Engineer
Through the design of tools and systems, they follow through in compliance of best practices in public health. A day in the life of a public health engineer lies in the collection and analysis of data and lab reports. 
Their goal is to bolster health and safety. This is accomplished through the development of new policies and procedures, which means they are often employed more often in governmental agencies, though some can be found in the private sector. In doing so, this type of special engineer often plays an active role shaping public health initiatives like educating the public on health topic, pushing through new legislation, advising on policy, and developing solutions to public health concerns. The average yearly salary is $81,199. 
Hydrologist
A hydrologist focuses on how water travels up and around the Earth. A day-in-the-life includes office and field time spent analyzing data and modeling key findings, and are often employed by governments (state or federal) and by environmental consulting firms. 
Monitoring groundwater, working with governments on water resourcing issues, finding solutions to droughts and rising sea levels, and consulting on construction projects are some of the tasks hydraulic engineers can provide expertise in. Hydrologists use monitoring equipment to collect and study samples in various bodies of water. For example, they may research how snowfall impacts erosion. The average yearly salary is $84,030.

Energy Auditor
Energy auditors inspect buildings and related systems with the purpose to evaluate their energy usage. Based on these findings, they make recommendations in order to improve efficiency while balancing costs. As auditors, they use a variety of tools to analyze field data with regard to energy use. Their work allows businesses, governments, and private homeowners to find new ways to save on energy—resulting in not only money savings each month, but also a reduced carbon footprint and environmental impact.  
Employed by energy companies, state or local governments, or specific consulting companies, their jobs includes finding savings opportunities and the prioritization of areas that will yield the greatest ROI. They set benchmarks for energy use and educate end-users in this area. The average yearly salary is $79,125.

Get Your Start with One of JHU EP's Environmental Engineering Programs
You can combine your engineering prowess and passion for the planet. There are multiple pathways from which to choose, whether you are driven to tackle climate change, reduce emissions, or figure out general issues of sustainability. 
Johns Hopkins University's Engineering for Professionals has three master's programs dedicated to various aspects of environmental engineering: 
Explore each program to learn more about the different types of environmental engineering, or reach out to admissions if you're already ready to make the next step. They're ready and waiting to answer any questions you have and get you started on the next phase of your journey.